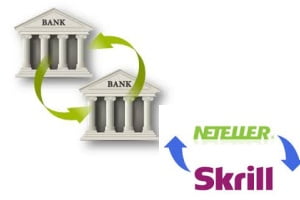 Here we will make a comparison between the expensive when send money trough bank transfer and when send money with online wallets. Please note that bank fees can vary quite a lot depending on the given country and if you send money domestically or abroad.
Generally, let us say that we want to send $500 to a friend in foreign country. If we transfer the money bank to bank the fees will be between $30-50 and also if the bank accounts are in different currencies there will be exchange fee so totally out of $500 you will pay the banks $50-100. Which means you will loose more than 10% of your money.
Also you will need to input correctly all the bank information – full name, bank account number (IBAN for Europe), bank name, bank address, bank code (most commonly SWIFT code) and so on. Also it will take a few business days to process the transfer.
On the other hand you can very easily and with the same security and confidence you one of the online wallets to do the same operation at far less cost, time and effort. We recommend you
Skrill
and
Neteller
which are licensed and financially regulated institutions.
You can upload money to your online wallet account from your bank account free of charge, for for a small fee from a bank card or local payment solution. You can transfer the money to your friend abroad for 1% fee (in our example 1% from $500 is $5) immediately (even on holidays) only knowing the recipient's email.
Your friend abroad can withdraw the money to their bank account or VISA card for a small fee app. $4. Or if they have a plastic card which both companies (Skrill and Neteller) offer they can go to the nearest ATM and just withdraw the money with the standard tax.