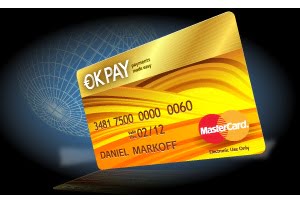 OKpay is one of the most reliable online payment wallets. Its functionality includes upload and withdrawals to bank card, SWIFT transfers and even bitcoin trading.
They have very good referral program with 2-Level System. Don't miss out on your chance to earn up to €500.00 EUR per each referred user!
OKPAY
features an excellent 2-level referral system available both to business and individual users (see the Referral Tree graphics).
You
– any user, whether corporate
or individual, having an
OKPAY
account.
1st-Level Referral
– a user who was
directly invited to
OKPAY
by you.
2nd-Level Referral
– a user who was invited
to
OKPAY
by your first-level referral.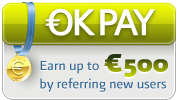 Transactions between users
Suppose your 2nd-Level Referral makes a €500 EUR transaction. For this transaction you, as the initial indirect referrer, will receive 10% of our service fee, i.e. €0.25 EUR in your account!
In a similar fashion, if the same operation is performed by your first-level referral, you will receive 20% of the fee, i.e. €0.50 EUR will be deposited to your account!
OKPAY Card operations
When your first-level referral orders a card via courier, you will immediately receive $3 to your account. And after the card is activated, every card load by this user will instantly put $0.20 into your OKPAY wallet.
E-money deposits and bank withdrawals
Suppose one of your 1st-level referrals makes a $300 USD deposit in one of e-currencies – you will immediately receive 0.5% of this amount, i.e. $1.5 USD.
After a while, this user decides to move this money to a bank account. In that case, you will receive $1 more.
You can open account here: www.okpay.com